Yerba Buena Center for the Arts, San Francisco
Live Art Exchange Festival- Bootleg Theater, Los Angeles
Brown Art Initiative, Rhode Island
Susanne Vielmetter Los Angeles Projects, Los Angeles
Performa 15- 3LD Technology and Art Center, New York
Ben Vereen's performance in 1981 Regan's gala.  (screen captured from ABC broadcast)
​​​​​​​
Until, Until, Until… investigates the infamous 1981 performance of Broadway legend Ben Vereen, televised nationally as part of Ronald Reagan's inaugural celebration. 
Intended as an homage to vaudevillian Bert Williams—America's first mainstream black entertainer—the final 5 minutes of the performance were censored for the television audience, causing Vereen's biting commentary on the history of segregation and racist stereotypes in performance to be lost on viewers at home. 
In our show, we re-staged Vereen's 1981 performance, questioned the truth of past narratives, and created an opportunity to reconsider our collective understanding of historic events. 
Inspired by the RGB analog component video of TV broadcast, in this show I created three color characters, which represented Vereen' nightmare- a one night performance which derailed his career. 
The three colors ghostly floated across the stage through out the show, conjuring the past events. Before Vereen was able to re-perform the second act- the lost 5 minutes. RGB characters reunited and combined, becoming the color 'white' in scene 8, where audiences were invited to walk through the projection and time traveled back to 1981 to experience the 'unedited' full color of performance.
 3D RGB and white characters style frame and animation 
The RGB characters and concept were in use in different scenes, projecting on multiple surfaces through out the play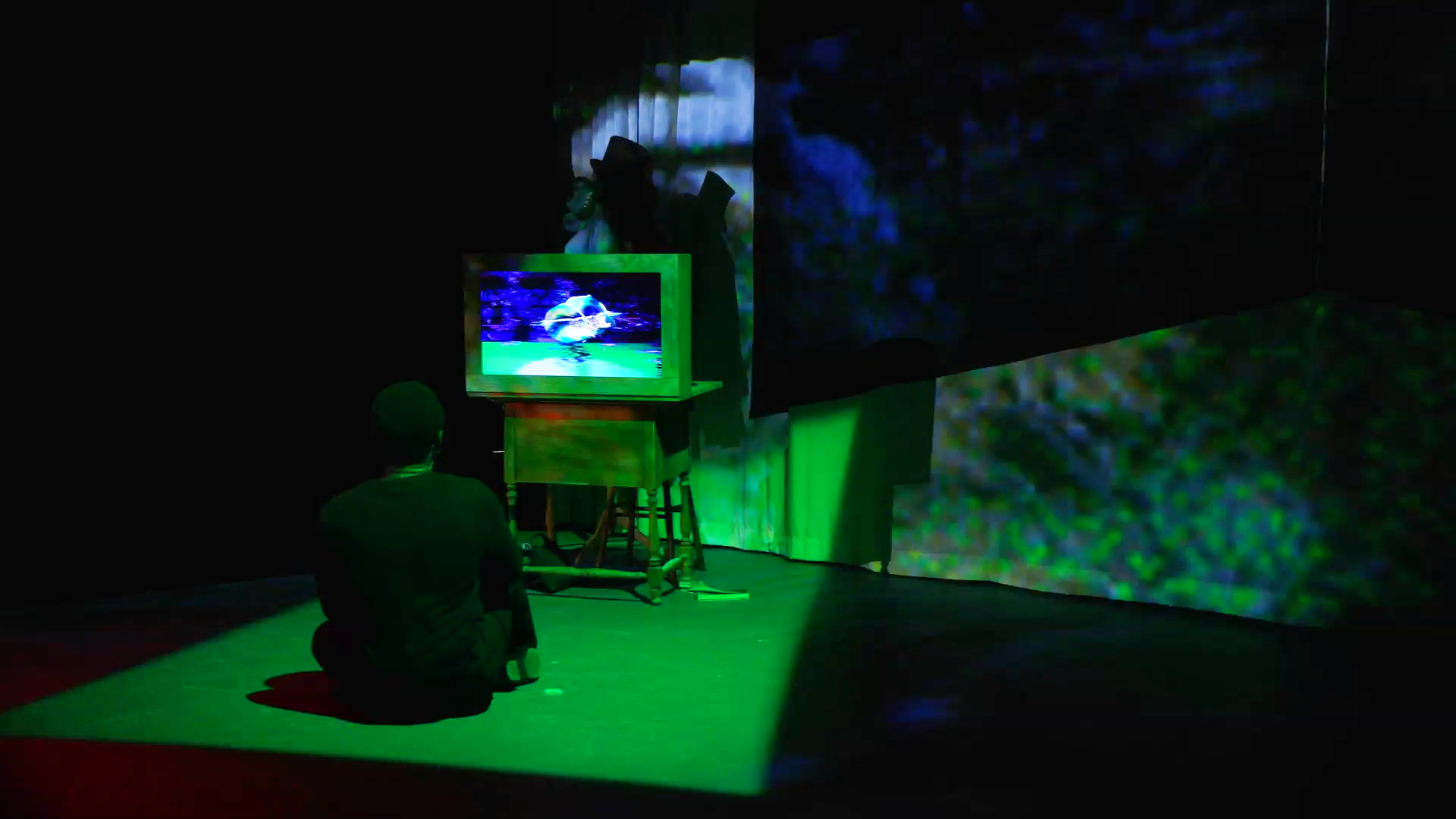 ▸ the past: the 1981 broadcast  V.S. the present: the live performance
I extracted original 1981 broadcast video and projected on to the stage while our actor who played Ben Vereen, preforming the same act. I also distorted the original footage and desaturated the colors to enhance the idea of the post trauma. 
Moreover, I designed to a live-feed camera on stage, which captured the live performance and re-projected on to the stage, filtering with effects. By doing so, I questioned the boundary of now and past when something current becomes history.
"Video design by Hsuan-Kuang Hsieh and sound design by Daniel Gower wildly distort the footage of Vereen. Those kicking legs melt into wavy magenta lines, then scattered pixels. The Reagans and their audience dissolve into tiny digital points of light...... Is this a dream we can wake up from?"
-Lily Janiak, San Francisco Chronicle
"With his team of collaborators, Arceneaux scripts new dialogue and adds the show-stopping number "Nobody But Ronnie,"...... loops and remixes the gala's TV footage, projecting it as the backdrop, so that Until, Until, Until… has something of a séance about it—Lawson channeling Vereen channeling Williams, surrounded by electric phantoms."
- by Jennifer Krasinski, Art Forum